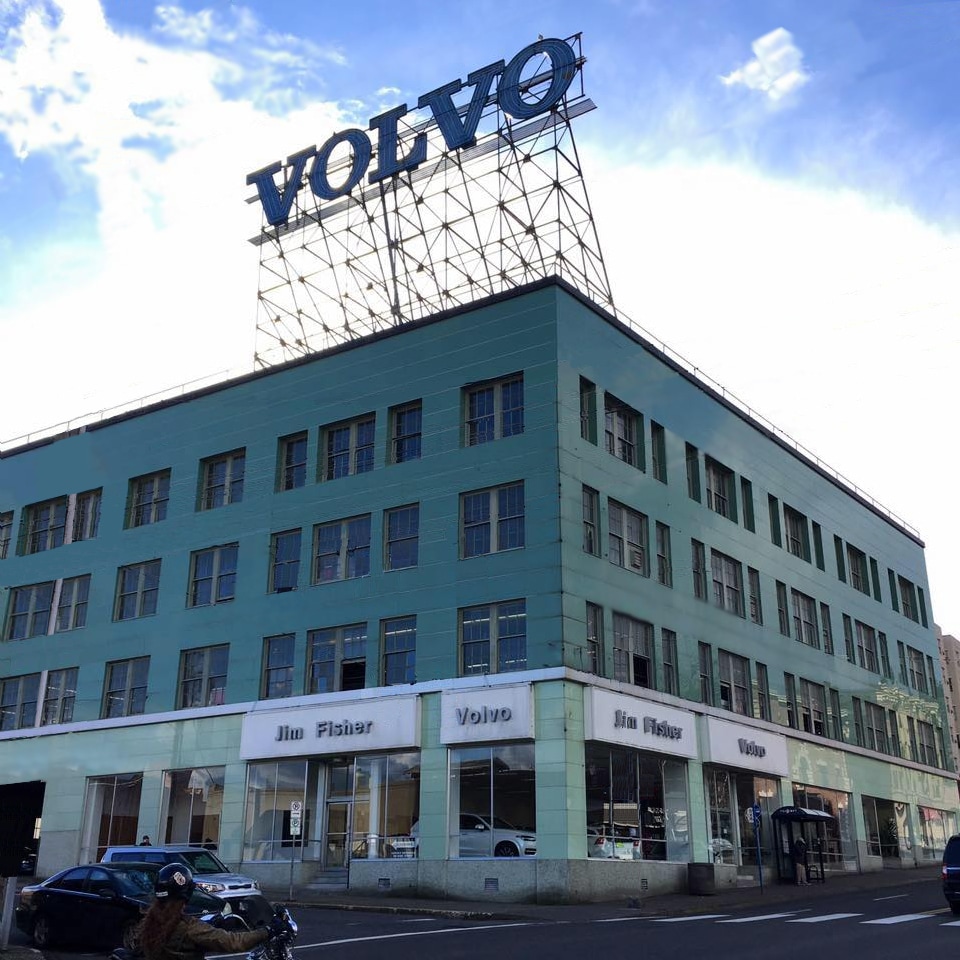 The story of Jim Fisher Volvo Cars began in 1957 with dinner at a Vancouver, Washington hotel. Jim & Ruth Fisher were guests of Gene Klein, a rather flamboyant businessman who later achieved fame as the owner of the San Diego Chargers. Among other ventures, Klein served as the western states distributor of Volvos, which at the time were revered in Europe, but relatively unknown in America. Klein's mission was to convince the Fishers to bring Volvo to Portland. They agreed, and the rest, as they say, is history.

Unfortunately, Jim & Ruth have passed on, but a second generation, Jim Jr. and Jane, are as passionate about Volvos as their parents and are both active in the company's ownership and management.

Known for its iconic neon "Big Blue Volvo sign", the five-story Jim Fisher Volvo Cars building houses a large selection of new and pre-owned Volvos. With its entire inventory of new vehicles displayed indoors, the dealership offers customers dry shopping, even during Portland's rainiest months. The Jim Fisher Volvo Cars building also houses complete service and parts departments.

Of course for any business to successfully grow for more than half a century, a company must put customers first, which has always been the philosophy at Jim Fisher Volvo Cars. But don't just take our word for it; ask any of our thousands of customers. Then call, visit or contact us online - you'll love the way we treat you.
Getting Acquainted with our New Volvo Dealership, Serving Portland, Ridgefield, Washougal and Vancouver, WA
At Jim Fisher Volvo Cars, our goal is to exceed your expectations at all times. The moment your walk into our showroom, which features the latest Volvo S60, V60, V60CC, XC60, S90;and XC90 models available, we intend to help you find a new or used car you'll love. But, our relationship doesn't end there.
Once you drive your new vehicle off the lot, you want to make sure that you get as much good use of out of it as possible. That's where our service department comes in. If you buy or lease a vehicle from us, you're getting quality maintenance with certified Volvo parts that are also available for purchase. Basically, you'll know your vehicle is in good hands, from beginning to end.
You're also in good hands with our team of Volvo lease and loan specialists. They take the stress out of the situation and work to make sure you have a pleasurable experience, while also meeting your financial needs.
So, what's the quickest and easiest way to experience this unmatched service? Jim Fisher Volvo Cars can easily be contacted online or by phone. Or, swing by and see us in person. Our showroom is conveniently housed at 2108 West Burnside Portland, Oregon, and we're are always happy to chat about new vehicles and answer any questions you might have.