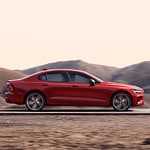 The popular Volvo S60 luxury sedan has a lot to offer drivers throughout Portland, OR, and beyond. If you're ready to learn more about how you can own or drive a Volvo S60, stop by Jim Fisher Volvo Cars Portland and meet with our friendly, knowledgeable team today.
Whether you choose a traditionally fueled or hybrid Volvo S60, you'll find the performance that you need to conquer all types of roads. You can also select from front-wheel drive and all-wheel drive options depending on your particular driving style and personal preferences.
The baseline Volvo S60 comes with a turbo engine that creates more than 250 horsepower with an estimated combined fuel mileage rating of 30 miles per gallon. The top-end hybrid Volvo S60 model features a supercharged engine that acts in concert with a well-engineered electric motor. With this model, you can expect combined power ratings that top out around 400 horsepower while the estimated combined fuel mileage rating comes in at just under 70 miles per gallon.