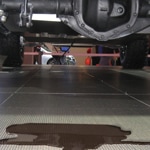 Have you ever noticed a new stain on your driveway or spotted something dripping from the undercarriage of your vehicle? Jim Fisher Volvo Cars Portland is aware that fluid leaks can be upsetting, and we want Portland, OR drivers to be informed about vehicle maintenance, so we put together this handy guide.
One of the most common fluid leaks isn't a leak at all. Many drivers in Vancouver, WA panic when they see a puddle of water under their car, but it's likely just condensation from the cooling system.
Another common fluid leak is antifreeze. You'll recognize antifreeze by its bright color, usually orange or green. Pets are attracted to the sweet smell of antifreeze, but it's toxic, so always clean up any spills immediately. If your vehicle is leaking fuel, you'll recognize the smell from the gas pumps, and leaks that leave a dark, greasy stain are typically from motor oil.