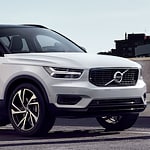 When viewing the interior and exterior of the Volvo XC40, it will become crystal clear why it's such a popular SUV. This luxury subcompact vehicle checks many boxes when it comes to satisfying the needs of drivers. Below are examples of exterior features that people appreciate.
Door Handle Illumination

On the surface, door handle illumination is a minor feature. What's incredible about this element of the Volvo XC40 is that it adds to the overall allure and attractiveness of the vehicle. It's also functional because it provides guidance when approaching the vehicle at night.

Tinted Rear Windows

?The Volvo XC40's tinted rear windows will help to keep you cool during summer months. It also helps to maintain the integrity of the interior that might otherwise experience fading because of sunlight.
The Volvo XC40 is a vehicle you should definitely experience. Are you ready for a test drive? Visit Jim Fisher Volvo Cars Portland today.